Create Quizzes Online
Use PuzzleMe's quiz maker to create and share online quizzes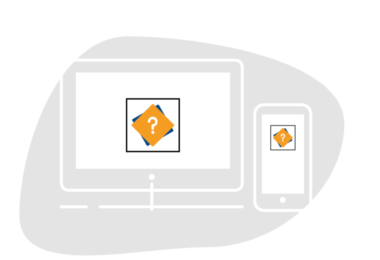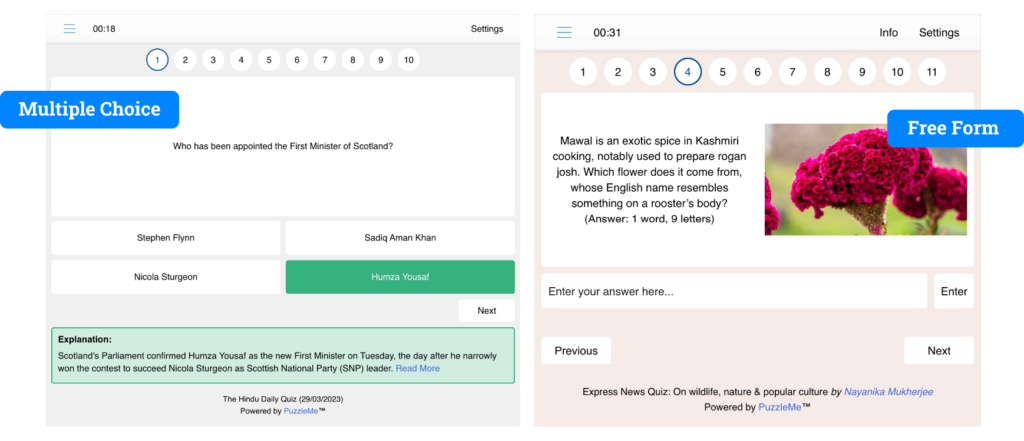 PuzzleMe™ quizzes support multiple-choice and free-form question types. Multiple-choice questions can have two to four options, which are presented in a random order. In the case of free-form questions, multiple variations for the correct answer can be accepted. A single game can contain a combination of multiple-choice and free-form questions.
PuzzleMe quizzes can be integrated with Google Classroom as well. The questions can be randomized and tags can be added to indicate difficulty levels (such as Easy/Medium/Hard), or topics like history, geography, etc. PuzzleMe can randomize quiz generation so that each user sees a different set of questions with a particular distribution of tags.
Live examples: The Indian Express, Ace of Pubs
PuzzleMe provides a smooth playing interface on mobile, tablet or desktop. The responsive layout of the quiz iframe adapts automatically to the dimensions of any device.
Live example: The Indian Express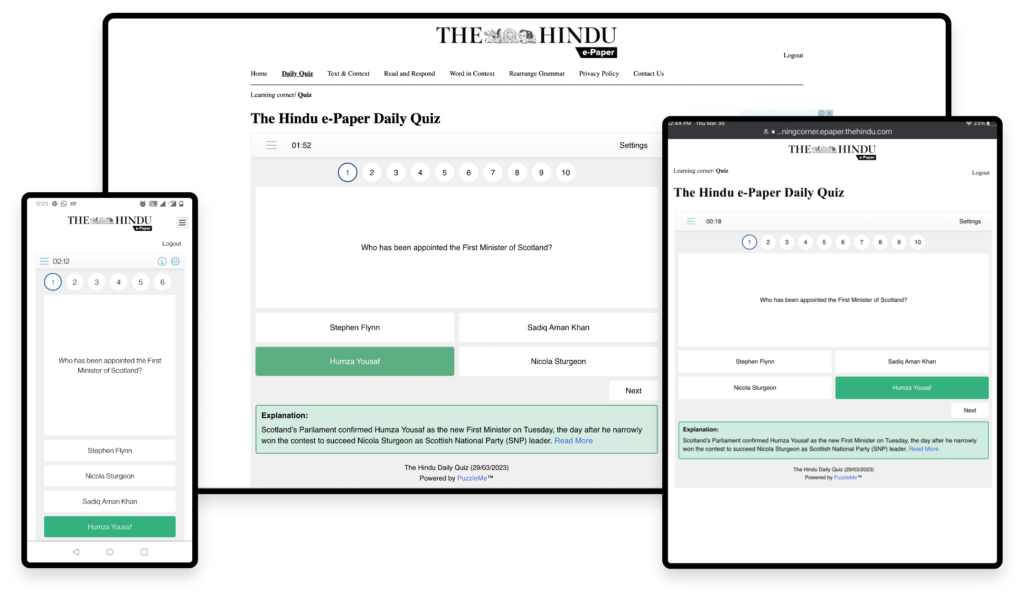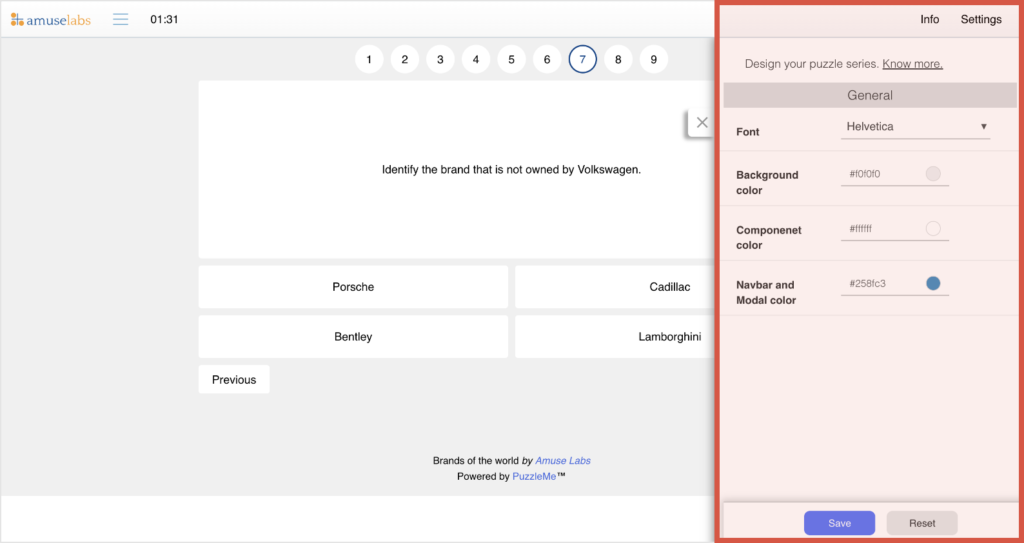 Quizzes on PuzzleMe can easily be white-labeled to represent any style or brand. The built-in theming tools enable customization of colors, fonts, and messaging, and support the seamless integration of the quiz with any website or app. To further customize the quiz, custom backdrop colors and themed images can also be set by the quiz writer.
Live examples: Ludikludo (French)
PuzzleMe's optional explanation feature allows players to better understand each question after it has been answered. The explanations can also contain HTML links, which are frequently used to direct players to other articles or pages on the site. The links open in a new tab. Offering explanations is a good way to encourage players to spend more time on the site or app.
Live example: The Indian Express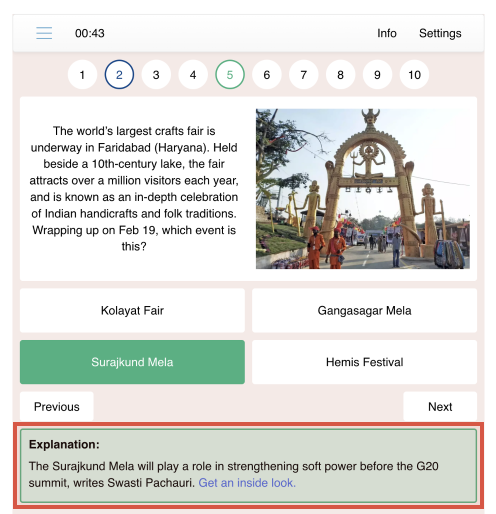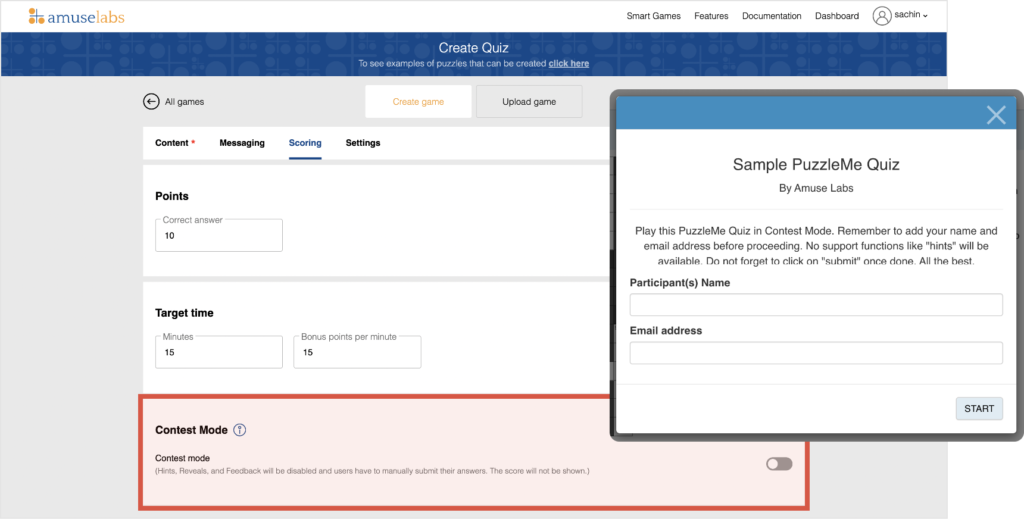 PuzzleMe quizzes can be set to contest mode to enable a competitive environment for players. In this mode, players do not receive feedback about the correctness of their selected responses. The quiz timer begins automatically when the quiz is loaded. PuzzleMe's secure design ensures that no answers are available in the user's browser, which prevents cheating by even tech-savvy users. PuzzleMe also has the ability to collect participants' names and email addresses, which is a big plus for organizers.
Communities and educational institutions use Contest Mode to organize competitions and tournaments. Contest quizzes are also popular among companies and brands for employee engagement activities.
With multimedia support, the PuzzleMe quiz need not be a text-only affair. Images, GIFs, videos and audio files stimulate the senses and provide additional context. Although a great option for enhancing any quizzing experience, multimedia goes especially well with quiz questions based on pop culture.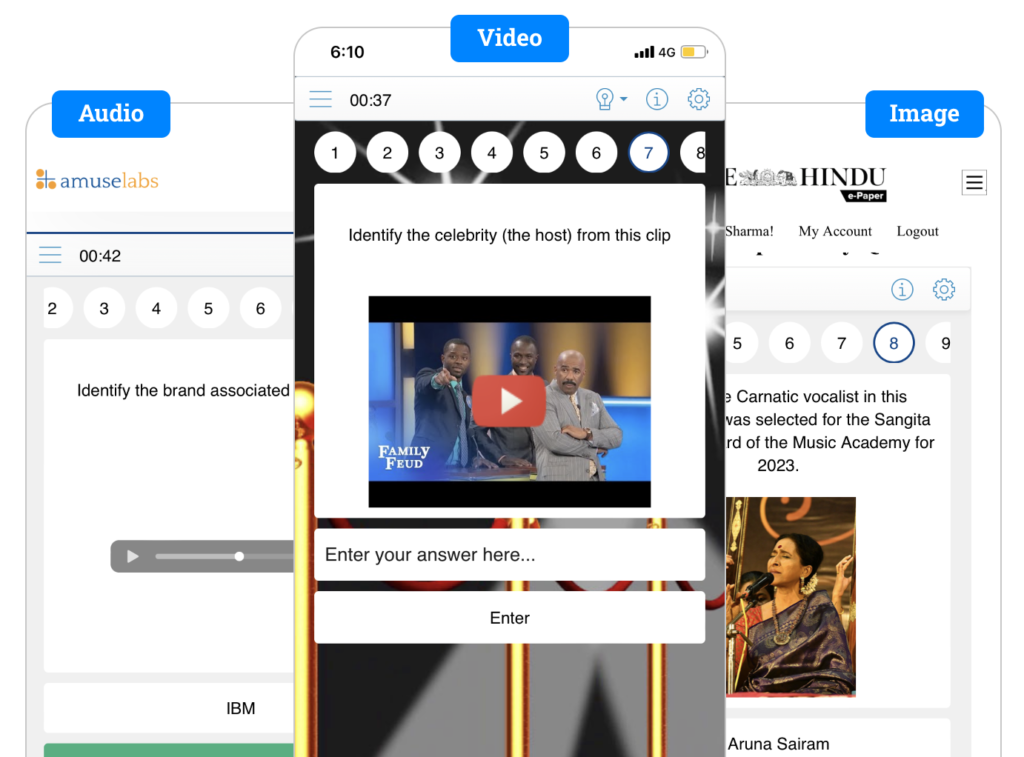 PuzzleMe's native analytics dashboard provides comprehensive performance reports for each quiz. These include aggregate metrics such as game loads, user count, average time spent and devices used. The "play-by-play" section provides detailed analytics on each play, such as the number of questions answered correctly by each user, their time taken to complete the quiz, and their final score.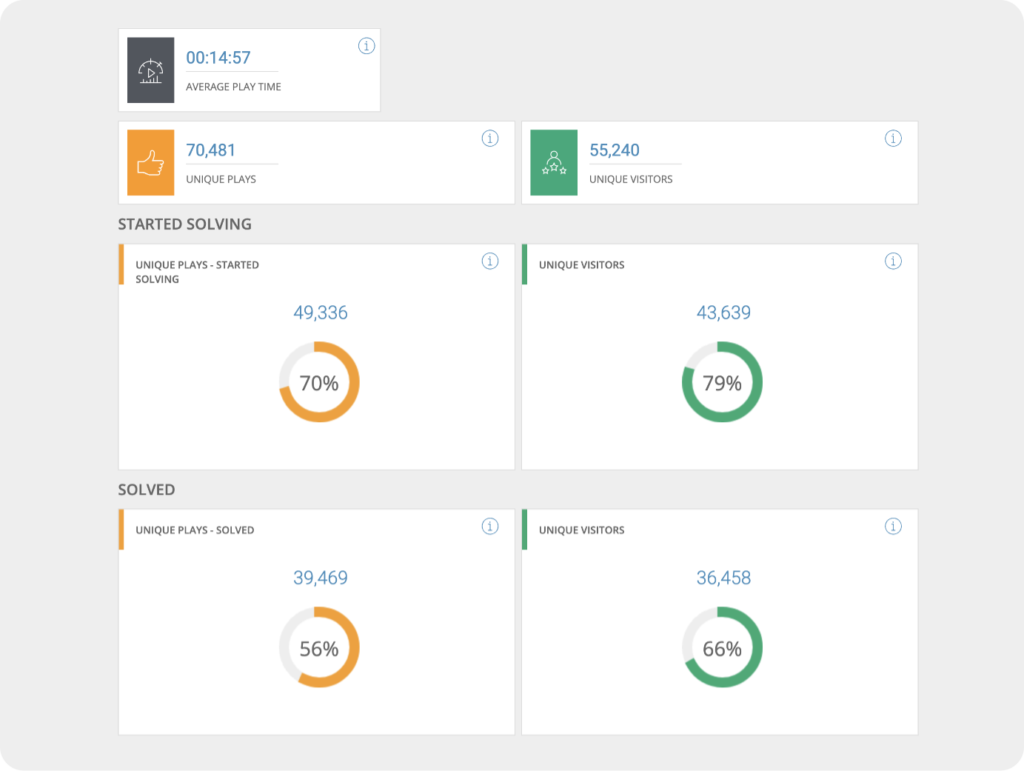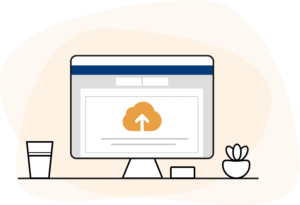 PuzzleMe's upload feature makes it easy to create a quiz using an existing bank of questions and answers. Import a CSV file with the content and create quizzes easily. All questions are managed by assigning tags within PuzzleMe. For reference, a sample file is made available in the upload section of the creator interface.
The widget below is a live PuzzleMe iframe. The iframe's height, width and other parameters can be customized in the embed code. In a real deployment, puzzles can be set up with a publication time in advance, and automatically appear in the picker after their publication time.
To try out and embed these demo quizzes on your website or mobile app, please click the button below to copy the embed code. Feel free to adjust the height, width and margin as per your own site's layout. 
Please note that these iframes are only for testing and demonstration purposes, and are not to be used commercially.
Please write to support@amuselabs.com for any questions or clarifications. And contact us if you'd like more puzzle types!