Introduction
Have you been thinking about using a subscription model with your readership? Or perhaps you already have a subscription product and are looking to boost user engagement? Are you wondering how to reduce subscriber churn? In this article, you'll learn how to create a subscription product based on puzzles such as crosswords, sudoku and word search.

If you want to read this article offline, please share your business email in the form below and we will send you a PDF of this article.
Why you should consider moving to a subscription-based model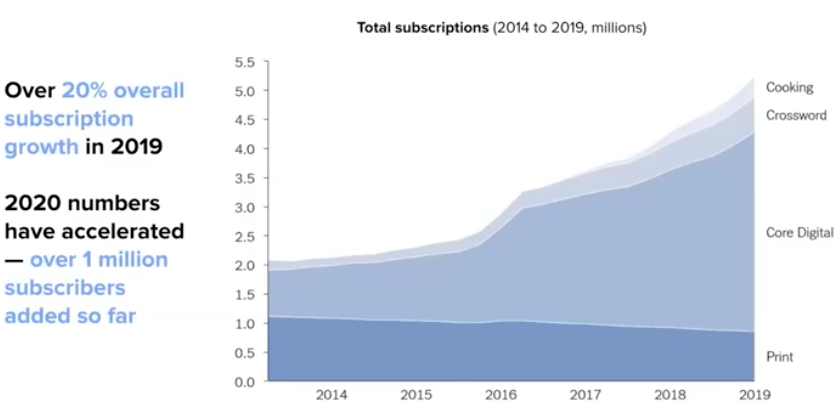 Direct line to your subscribers
The above graph shows the dramatic growth of the New York Times crossword. product (which is sold separately from its news product). It demonstrates that a profitable revenue stream can be established with a puzzles product that is sold as a subscription, either separately or integrated with a publisher's app. Of course, the product has to offer a smooth user experience, whether on mobile or on web, to users, and offer ways to move session state between different devices owned by a single user.
Subscription products also have the benefit that you own the entire relationship and experience with your most loyal customers. It allows these customers to more directly assess the value they are getting from your product, and provides a non-intrusive, higher quality experience compared to ad-based. products. The opportunity to upsell and cross-sell are much higher when your customers are already paying subscribers.
Privacy considerations
Privacy regulations like the GDPR and the CCPA ushered in a new era of compliance and regulatory oversight for publishing companies. Similarly, device platforms like iOS and privacy-oriented browser changes in all major browsers (Chrome, Safari, Firefox) are reducing the avenues for ad targeting and monetization. Third parties like ad networks handle anonymized or personally identifiable information from your users. Communicating to your users how this information is used can be difficult, and can affect their perception of your brand.

Subscription products do not have these problems. The only party that has the user's information is you. It is easier from a compliance standpoint, as well as simpler to communicate with your users.
Ad Fatigue
The average internet user is exposed to between 4,000 and 10,000 ads online – each day. This leads to the development of ad fatigue, where your audience sees the ads on your website so often that they turn a blind eye to them. This affects their engagement with those advertisements, impacting CPMs, conversions and ultimately ad revenue.
With a subscription-based product, you eliminate the reliance on ads for your revenue, and are not susceptible to the effects of online ad fatigue. It also creates a fresh, clean experience on your website, making it an attractive value proposition to the ad fatigued user.
Recurring revenue
Subscription revenue is recurring in nature. Widespread credit card and digital payments adoption makes it easier for you to get automatic payments each month from your users. The rising ease of digital payments works well in developing countries as well, a geography which traditionally has not been very lucrative for advertisers (source: Techcrunch).
Many publishers offer an upfront discount for annual payments. This is beneficial from a cash flow and capital efficiency standpoint for your publication. Finally, in a world where newspapers are valued like software companies, recurring revenue is the dream goal if you want to drive up the valuation of your publication (source: Zuora).
Recurring revenue has the power to transform the way publishers think about their relationship with their subscribers, enabling them to focus on doing what they do best. According to participants in the World Association of News Publishers ' Digital Media India conference :
"The beauty of the subscription business is that each year the quantum of recurring revenue from your subscribers only increases. If you do your journalism, revenue will come in,"

Rohin Dharmakumar, co-founder and CEO, The Ken
Why offer puzzles to your subscribers
Promote regularity and habit forming products
As experienced editors know, crossword, sudoku and other puzzles have become an essential part of the daily routine of millions of readers. They provide a welcome break from the news, which is often alarming or depressing. Many editors have told us that they've felt humbled when a mistake in the puzzle leads to hundreds of calls from upset users – perhaps generating more calls than even a mistake in the news.
In contrast, puzzles provide a sense of pleasure, refuge and fun to readers. The sense of accomplishment readers feel when they crack a clue, incrementally fill up an interlocking grid, or the "Aha!" moment when the theme of a puzzle reveals itself – all these create rewarding experience and memories for users. Many readers have developed routines where they co-solve crossword puzzles with their family and friends, around the breakfast table, in the evenings, or after class. In the print world, people would eagerly await the solution in the next day's paper or the next issue. Thankfully, in the digital world, readers can not only get their answers quickly right inside a puzzle app, but can also binge solve more than one puzzle each day.
Just like their morning coffee, once readers are introduced to crossword puzzles, solving them becomes an essential part of their daily lives for many years. In digital product terms, the churn associated with crossword puzzle users is very low. Studies have repeatedly found that subscribers who form positive habits with publications tend to be the most loyal subscribers. For example, the Wall Street Journal conducted a deep data-driven analysis of their users' engagement and its impact on subscriber retention. They found that regular engagement on specific sections of their apps and websites, including crosswords, correlated highly with reduced churn and improved subscriber retention (source: Neiman Lab). We're not surprised.
High engagement
A 15×15 daily crossword puzzle generally takes up to 15-20 minutes to solve on average. Cryptic crossword puzzles, special crossword puzzles and larger weekend crossword puzzles take even longer to solve, with solving times ranging from hours to days. This means the time spent by a regular reader engaging with a crossword puzzle far surpasses most digital content forms, including long-form articles or medium length videos. Crossword puzzles drive user engagement comparable to TV shows or movies, for a fraction of the content creation cost.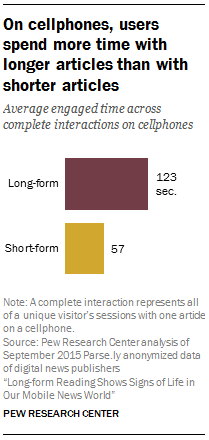 Brand Voice
Crossword puzzles have ample scope for personalizing the content to suit the brand/publication's voice. Long time puzzle constructors have developed reputations for their clue style, or word selection. Publications such as The New York TImes, The Los Angeles TImes and Newsday have built large reputations for their crossword puzzles. Across the world, we see the same pattern, whether it is the famous Auracaria puzzles in The Guardian, The Hindu's Cryptic in India or the Mambrino puzzles in Spain. Publishers have even developed entirely new subscription puzzle products such as the New Yorker's challenging crosswords, and The Times of India minis for an Indian audience.

Similarly, niche publications have a chance to focus on their chosen industry, rather than employ generic crossword content. Many industry oriented publications publish custom crossword puzzles at a lower frequency, say a weekly (McKinsey Publishing) or a monthly puzzle (Outside magazine). There is also a large community of crossword constructors available for creating customized puzzles to suit a publication's brand voice and style.
Write now, publish forever
Depending on the specification, crossword puzzles can be constructed with evergreen content themes. While some crosswords deal with topical or current events, others tend to stick to content which is likely to be relevant for years to come. The popularity of syndicated crosswords originally published in the '70s and '80s is testament to their longevity. Similarly, many publishers release selections of their archive puzzles in the form of books. Thus, the shelf life of a crossword puzzle is far longer than an article or a video. Puzzles can be used, republished and repurposed for decades to come.
Value of the back catalog
Many publications have crossword archives going back to several decades. The digital medium provides an easy, cheap and convenient way for users to access any puzzles in the archive (perhaps a puzzle they particularly enjoyed, or a puzzle on a specially meaningful day like a birthday or an anniversary). This archive can be made accessible over mobile phones as well, making the solving experience even more convenient.
As more puzzles are published and added to the archive each day, the value of the back catalog only goes up. Several publishers, such as The Guardian, offer their crossword puzzles and other games archives to subscribers, going back many decades. Similarly, these back catalogs can be syndicated to other publishers as well. Digital distribution makes it easy to set up online puzzle archives and syndication services.
Exclusivity
As publishers develop a distinct brand voice and make their back catalogs available for access, the exclusivity associated with the crossword puzzle subscription increases. The large, ever growing archive of unique puzzles creates an incentive for existing subscribers to stay on as customers. On similar lines, solvers who crack a tough puzzle talk about it to their friends and co-workers, which acts as great word of mouth promotion for the crossword subscription and incentivizes more people to subscribe.
Play Together
With features like "Play Together", two users can solve a puzzle together in real time. Since both users need to be subscribers, this creates network effects for the growth of the puzzles. Each user may add one or more other users via the Play Together invite feature. This can significantly reduce the marketing overhead for the puzzles product and improve the bottom line. Further, unlike news, puzzles are stateful pieces of content. So each user has their own streak, state of partly solved puzzles, etc. Users are therefore unlike to share their subscriptions accounts with friends. This fact gives each user a strong incentive to get their own subscription.
How to bundle your puzzles subscription
There are a few different ways to design your puzzles subscription.
With your main subscription
If you already have a subscription product, bundling crosswords and other puzzles can boost the value of your subscription significantly. It also allows you to build out a digital puzzles brand under your main publication's name, reducing the overhead needed to launch a new brand for your puzzles product. If you do not have a subscription product already, crossword puzzles can act as the driver for you to create and launch a subscriber program, and could be helpful for securing buy-in from different stakeholders within your organization.

Check out the Gulf News subscription offering (screenshow below) for a good implementation. This subscription product offers daily and weekend crosswords, word search and sudoku puzzles. It also has a blog post each day analyzing one of the puzzles to drive further engagement and build a community around the product.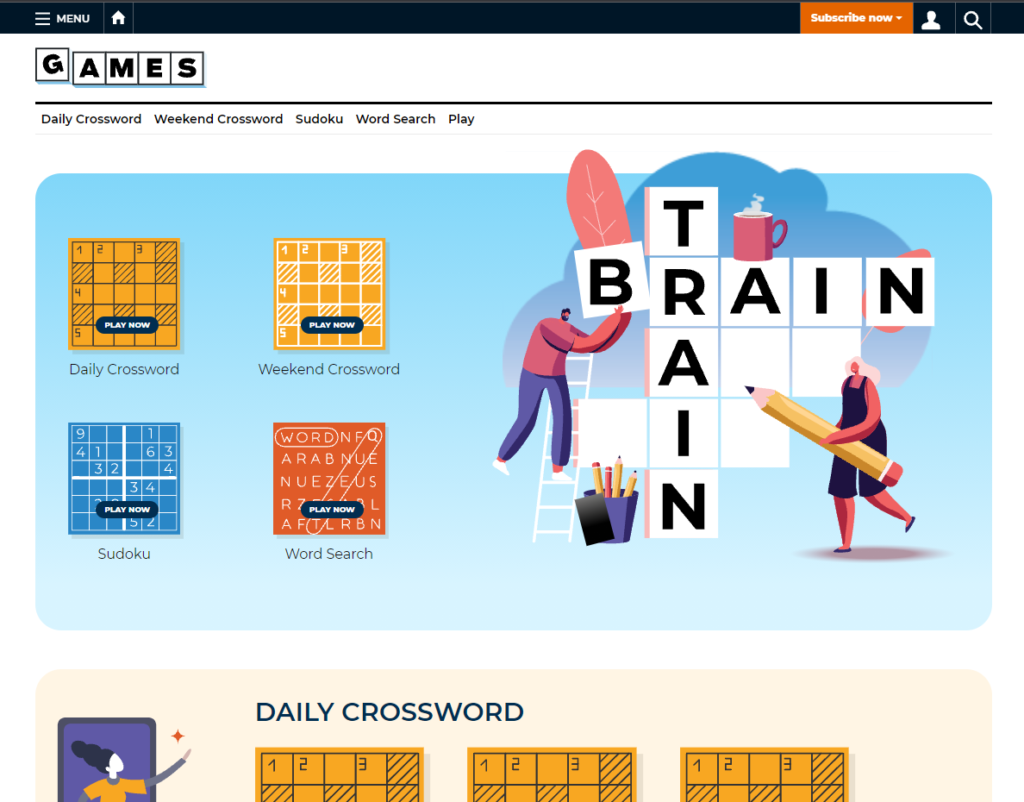 A separate subscription
Many publications prefer to create a specific games section within their website, and charge for it separately. The New York Times' games subscription has more than 900,000 subscribers. Having a separate subscription for the games/puzzles makes it easier for you to assess the financial viability and performance of the product. Normally, games sections are hosted separately from the main publication website/app, which also reduces the technical integration effort.
Check out The Guardian Puzzles app for an excellent example implementation. A puzzle subscription is £3.49 monthly, or £32.99 annually.

A separate brand
If you are operating in a smaller niche or looking to break into a new market, creating a new brand is a good way to test the waters. It simplifies the technical integration, allows you to experiment with your editorial voice and ultimately provides you the opportunity to build a puzzle oriented brand from the ground up.
Check out You Puzzles in South Africa for an example implementation.
A hybrid approach
Even if you are offering a subscription product, not all your content has to be put behind a subscription paywall. You can also offer some of your puzzles to non subscribers, giving them a flavor of the product. The complete puzzle catalog can be made available once the user has converted to a subscriber. A metered paywall for free puzzles is a good way to implement this hybrid approach. The New Yorker does a great implementation of this. Another way is to offer purchasable puzzle packs for free as a trial. Yet another approach is to ensure that only subscribers get access to the most fresh and complete content, while users who do not have the ability to pay can still engage with your product at least partially, or with a time delay.
Things to keep in mind while choosing a solution provider
Content tailored to your brand voice
It is necessary for you to control the editorial aspect of your crosswords and other puzzle content. This becomes doubly important when you are a niche, small publication. Generic puzzle content is not going to address your needs. When looking for a solution provider, it is important to use a vendor where you can provide your preferred source of puzzle content.
Several solution providers offer content bundled in with the software, which might not be a good approach for your needs. You will probably need a bespoke content package that makes sense for your users. Whatever solution you use needs to work with a variety of puzzle sources, constructors and syndicates.
Owning the user experience
Your customers are subscribing to you, not to your vendor. The crossword solving experience needs to be delivered on your website or app, without redirecting your readers to another portal or website. This is necessary from both a user experience, as well as privacy perspective. The experience of accessing the crosswords needs to be tightly curated and controlled on your platform.
Delivering an off site experience is not ideal for your goals. Custom developed software, or an experience delivered via an iframe allows you to more tightly control the user experience. An easy solution to implement would be delivered via iframes, ensuring your readers are always in your site and experience with the site scaffolding looking exactly as it does on your other pages such as news and features.
Look and Feel
Your websites and apps have a bespoke design and so should your puzzles. Solution providers who have a generic "gaming platform" design might not work well for you. You should be able to customize design aspects of your puzzles, such as fonts, colors, logos, icons and messaging very tightly.
Print Support
You may be surprised to learn that solving puzzles on paper is still popular in the digital age. Many users prefer to print their puzzles out and solve them on paper. This is because they may prefer to avoid the distraction of computers and devices, or because they are going on a commute, a vacation or a trip. Accessibility is key to reaching and retaining an engaged subscriber base. Proper implementation of print is. a must-have for any puzzle product. It is also important to provide a variety of options while printing, such as ink saver mode and the ability to customize the font size. Otherwise, you'll surely receive a lot of complaints!
Data driven approach
It is essential to have a deep understanding of how users are engaging with your puzzles, how much time they are spending on your content and which content performs better with your audience. A comprehensive data analytics solution should be provided by your puzzle platform itself, and it should allow you to track how many people came to the puzzle, how many completed it, how much time they spent on it, and how these factors vary by device type (mobile, desktop, tablet, etc.)
Network effects
Your users should be able to share their accomplishments on your platforms on their social circles – Twitter, Facebook, WhatsApp, Instagram and others. Whether it is sharing an interesting puzzle they found, or a high score they achieved, the feedback and validation they receive on social media acts as a positive feedback loop, driving them to engage more with your content.
Similarly, it is even better if users are able to invite other users for co-solving crosswords with them. Crosswords contests are a great way to acquire users in such a way. Similarly, features like the "Play Together" feature leverage network effects naturally for growing your subscriber base.
Smooth experience on mobile devices
With a subscription product, users expect it to be able to be used on their phones, ideally within your website or app. Your solution provider should be able to provide a great experience on smartphones and tablets as wellas desktop. They should also integrate with your mobile apps via WebView technology, or provide a deeper, native app integration. And this has to work on both iOS and Android.
Amuse. Labs' puzzle platform PuzzleMe integrates with your brand via iframes, gives you complete control over the design, is fully privacy compliant, works with the widest range of content sources, provides deep analytics functionality and has social driven growth built in. Contact us now for a free consultation on how we can help set up your subscription product.
Conclusion
Crossword puzzles may be older than televisions, but they have evolved perfectly to suit today' digital media world. They can serve as the foundation of building a great subscription product in the 2020s and benefit your brand for years to come.

At Amuse Labs, we are experts at helping publications create digital crossword subscription products. Get in touch with us to see how we can help you achieve your goals.